Coaching Days at Mac Park
Coaching Days at Mac Park are a unique opportunity. Situated in Mount Gambier, South Australia, Mac Park is a club owned track and is a motorcycle only track. The 2.4km circuit runs in a clockwise direction with 12 turns. It is a reasonably tight track, very technical, but extremely rewarding when it all comes together! These days are tailored for all levels of motorcycle rider. Whether you are a road rider, looking to boost your confidence on the road, or want to try track riding in a controlled environment, to experienced racers, looking to find that edge to take your riding to the next level.
In association with Motorcycling South Australia and the Mount Gambier Motorcycle Club, we can offer private days for coaching only. What this means, is that we have the track to our selves all day, not run in conjunction with a track day. This allows 3-4 times the amount of time spent on track, along with personalised instruction with each rider. We have a number of coaches on board for the day, to ensure sufficient assistance is available. All coaches are Motorcycling Australia accredited coaches and have a wealth of experience.
WE ARE NOW BOOKING THE DATES AT THE FOLLOWING WEBSITE: https://motocloud.online/mec_designer/on-track-rider-training-mec/
Our 2021/2022 dates:
DEC 10-12
JAN 7-9
JAN 21-23
FEB 4-6
FEB 18-20
Coaches on board at our 2021/22 Dates:
Due to the current Covid Travel restrictions, and the fact that I (Levi) live in the UK, at this stage it is looking unlikely I will be able to return to coach on the events. I am still organising them ensuring you get the same experience as you have come to expect from you events.
- David Johnson (Fastest Australian to lap the Isle of Man)
- Ty Lynch (Aussie Dirt Track Champion and Supersport 600 Rider)
- Josh Waters (should the Victorian border open up soon)
Along with these coaches, we have a number of other Motorcycling Australia
Accredited coaches helping run the day, who have a wealth of knowledge to offer also.
If date above isn't in booking list below, it is booked out. You can email at [email protected] to see if there has been any last minute cancellations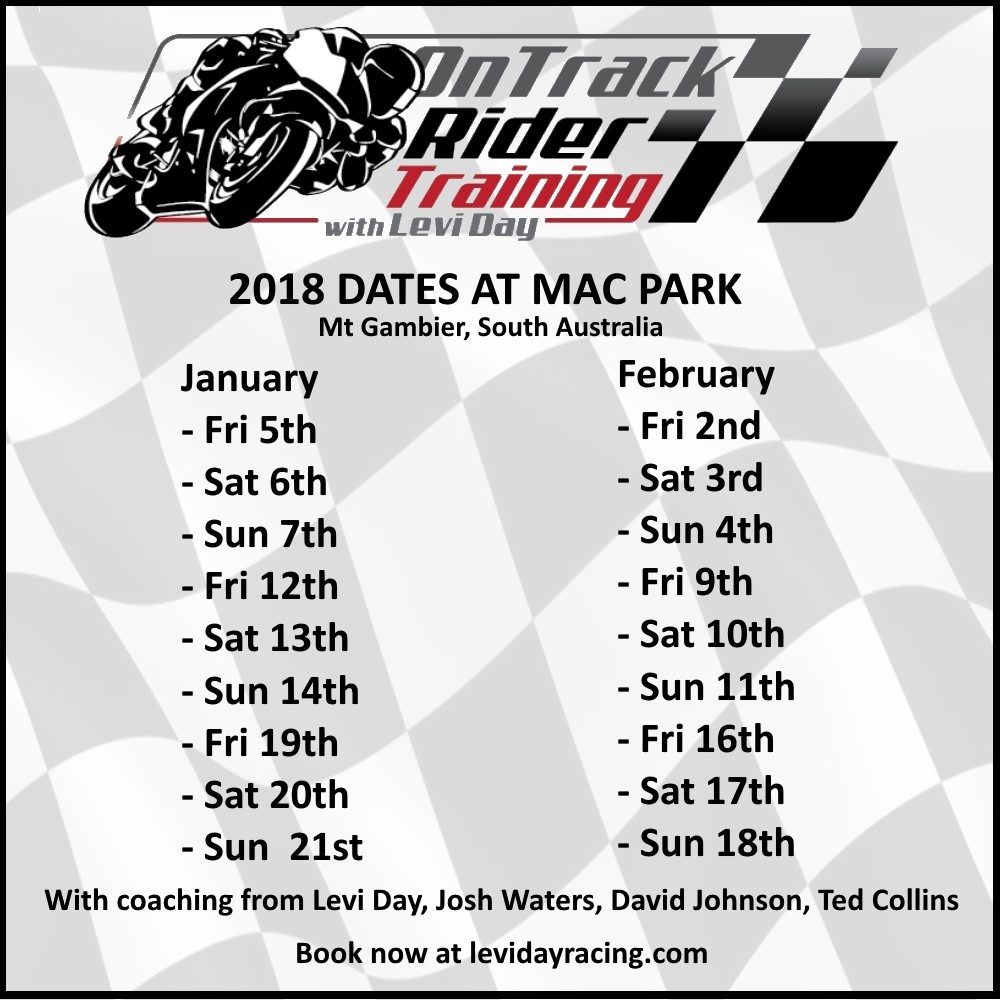 ---
Available Dates shown here - Please get in touch if there is a date you want to book in for but it isn't shown here.
---
A discount of $25 is applied to each day booked of 1 on 1 coaching days.


 

What the day includes

 
Track demonstration commences at 8:45am which allows a closer look at all the turns. It's surprising what you don't see when you are going full throttle around a circuit! We are able to see camber changes better, look at our racing lines, and get a better understanding of why we want to be in a particular area on the track, to try and create that 'smoothness' we want as a rider. One of the coaches demonstrates 2-3 times per corner, while one of the other coaches explains why we approach the corner in this way.
 

A warm up session following a coach starts the on track activities. This allows everyone, especially riders who are new to Mac Park, to see the track at a controlled pace, without faster riders interrupting their important first few laps.

 

The main idea of the day is this:

After the sighting laps, the track is open pitlane all day, with it only being closed for a morning and lunch break. This allows for a huge amount of track time for all riders and with a total of around 20 riders on track all day, this means you will have plenty of clear track. You are free to come in and out as much as you wish, doing as long or short stints as you like. Hopefully from the demonstration laps in the morning, you will have some ideas on what you want to work on. With it being open pitlane, there will also be a timetable, for what times each rider is out for a one on one session with the two main coaches for the day. Each rider will have one session with each coach, where the coach will follow you and also allow you to follow them, exploring different lines, body positions and techniques out on track. The coach will discuss with you before your session what it is you want to work on. As our tips are individual to each person, the more open and honest you are about what you want to work on, the more we can help you! We can of course see things and find things for you to work on, but if you know you want to work on body position, or trail braking, for example, we can focus on this area. Then we come in after the session and have a 5-10 min debrief on what we saw out there and what you can work on. The second coach later in the day, can either continue working on this same area for you, or focus on something else.

 
Food and Drink is supplied, included in your booking. Water and soft drink, along with morning tea and lunch. Cost is $10pp for any guests.

 

 
GoPro footage is available of your riding which will be running from cameras on the front and rear of Levi's bike, for an additional cost of $25 (will be put on to a USB which we will supply)
 
 
 
Talking over start procedure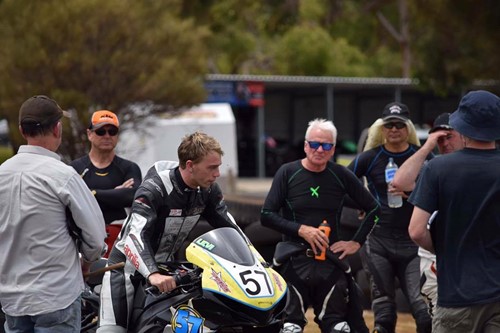 Following and assessing a rider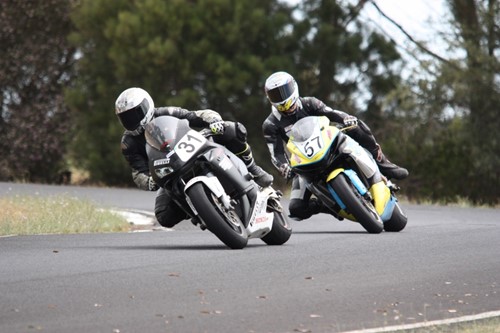 The racing line through 'water tower'