CPE to challenge for Supersport and Superstock 600 honors in 2016
CPE to challenge for Supersport and Superstock 600 honors in 2016
CPE Motosport are pleased to announce a competitive two rider line up for 2016 – hard charging Aussie Levi Day is retained to challenge for Supersport honors, with new recruit and young gun Brad Jones joining the team to compete for the Superstock 600 title. 
2016 is set to be an exciting season for us. Levi was unfortunate last year with an injury preventing him from completing the season in a podium position, so it's great to be able to continue our work for another year together; there is definitely unfinished business. Brad had an impressive debut in Superstock last year, and we've had an eye on him for a while, so we're looking forward to working with him to release his untapped potential.

commented Team Owner Simon Stevens
  Ex BSB rider and Team Partner, John Crockford, will be the mentor and Crew Chief for both riders.   
With the team, Levi and Brad all having previous experience with the Kawasaki ZX6R, we should all feel comfortable from the off and I am looking forward to extracting the best from the bike and both riders

added John
I'm really excited about staying on board with CPE Motosport for 2016. 2015 started out great and we were running 2nd in the Supersport Evo Championship, but unfortunately the injury I suffered at Brands Hatch at round 6 put me out for the remainder of the season. It's time to put that behind us and focus on a strong performance in 2016. It's a good feeling knowing the people working with me are committed to achieving some solid results with the tools we have. I really enjoy riding the Kawasaki ZX6R and am very excited about racing in Supersport next season.

Levi Day
I am really looking forward to 2016 with CPE. To work with John and Simon is a great opportunity for me and I can't wait to get started. I would like to thank them both and it will be great to have someone like Levi as a team mate. I look forward to a successful season and in the mean time I will be training hard in preparation

Brad Jones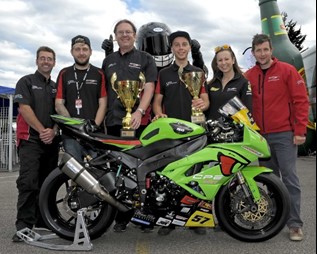 Walker Sport Pics