Round 3 of the 2018 Ducati Tri Options Cup - Oulton Park
Round 3 of the 2018 Ducati Tri Options Cup - Oulton Park
Round 3 of the Ducati Tri Options cup took place at Oulton Park in Cheshire over the weekend.
Brands Hatch was a bit of a nightmare, with electrical gremlins plaguing us all weekend. We replaced the entire wiring loom, ECU, dash and so on, which solved that issue. We took the bike to the official British Superbike test the week before the Oulton Park Round, where I topped every session and went under the race lap record. It was great to get the bike running good again and I was really looking forward to just getting back racing and mixing it with everyone in the class.
The weekends event was held over Saturday-Monday, due to a public holiday on the Monday. On Saturday's free practice I went fastest, with a good feeling on the bike and no changes needed to be made. We had qualifying on Saturday afternoon, and the temperature was starting to heat up quite a lot, with the forecast to only get hotter as the weekend went on. I put in a good lap in qualifying to put it on pole position. I had a small crash mid way through qualifying, clipping the inside curb at a chicane. Fortunately my lap from early in the session was good enough to keep me in pole position for race one.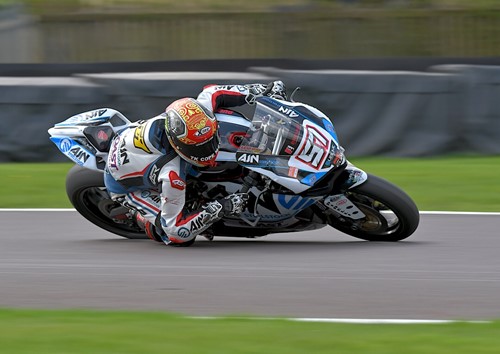 I was buzzing for Race 1. Everything was working great and I felt like I was really working well with the Ducati, and we'd be in a strong position to take the win. I got the whole shot led up to turn 2. Coming down into turn 3, I could feel the bike slowing, as if the brakes were being pulled on. On the exit of the turn, the bike was really struggling to accelerate. I had a few big moments over the first lap, as I could feel the front brake binding. I had no other option but to pull in to the pits. A horrible blow and no explanation at the time as to why it had happened. Because I hadn't completed a lap at that time, I would have to start race 2 from the rear of the grid. My team had a quick thinking idea that if we bled a large amount of fluid from the brakes, it may release the pressure slightly. This did work but it also gave me very minimal braking. I was able to circulate and put a lap time in to put me 4th for race 2. It was a frustrating way to end race 1. After all the electrical problems at Brands Hatch, to have a completely new issue arise was certainly character building! The decision was made to replace the entire front brake system. As we don't have any time before the second race to try any changes, we have to eliminate any possible causes, as we can't afford any more technical DNF's. We replaced everything, from the brake calipers, hoses, master cylinder, and lever. Upon dismantling the master cylinder, my team found that part of the master cylinder appeared to be the wrong size. When we compared it to the new part, we found that it was in fact too long. It turns out that this over sized pin, due to the heat, was expanding just enough and pushing onto the master cylinder piston, causing the brakes to come on.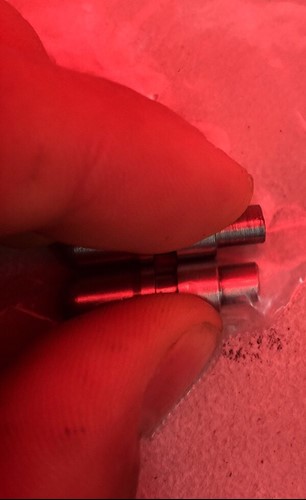 Race 2, on Monday and I was just hoping we finally had a bike that was going to play ball and allow me to have a good race! Starting from 4th position, I managed to get a good start and get the whole shot in to turn 1. From here I was able to put some solid laps together with no mistakes. This allowed me to open up a gap to the riders behind me and get into a good rhythm. On lap 7 we came up on some lapped riders. This altered our lap times slightly, with the gap to 2nd place closing and opening by a second or so, through out a lap. I was able to manage the gap and cross the line in 1st! What a way to turn the weekend around, and the last few race results due to the technical gremlins we had. I can't thank my team enough for continuing to work harder than they should have to each weekend, to overcome these problems and give me a bike that is capable of winning races. We have shown that we have the pace to be championship contenders. I will continue to do my best in every session, every weekend and remain positive that we can come away with strong results each weekend.
Snetterton is the next round, with a 5 week break in between. I'm looking forward to getting back out on my AJN Steelstock/ BPS Racing Ducati 959 Panigale, and give my all for my team, and sponsors, who without their support, I wouldn't have the opportunity to be doing this.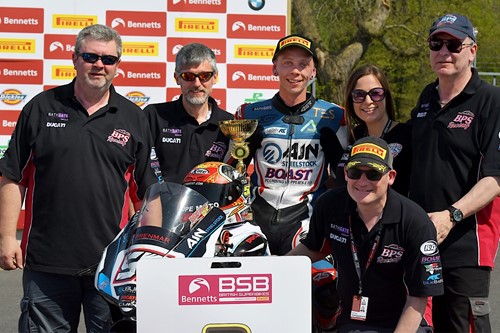 Photo credits: Walker Sport Pics
To all my 2018 Sponsors I thank you for you support this year!
AJN STEELSTOCK - MAJOR SPONSOR
Boast Plumbing Supplies - Brenmar - Gunia Plant Hire - TES 2000 – Noble Metalworks
Bakers Delight Mt Gambier - Shaun Dunford Driving Instructor – IRP Decals
Ryan Lawes Plumbing and Gasfitting - Nolan Helmets - Motogear UK - Gaerne Boots - TK Cope Moto - Health Foundation PT - Walker Sport Pics - Bendigo Bank Mount Gambier
Moto Rapido - R&G - HEL Brake Lines - Maxton Suspension - MCA Leicester - 4SR leathers

Levi Day - [email protected] - http://levidayracing.com - http://facebook.com/leviday57 - http://twitter.com/leviday57