Round 7 of the British Championship - Ducati Trioptions Cup - Silverstone
Round 7 of the British Championship - Ducati Trioptions Cup - Silverstone
The penultimate round of the Ducati Trioptions Cup was held at Silverstone over the weekend. Silverstone is such a different circuit to most others on the British Superbike Calendar, with it's hugely wide track layout. Assen, which our final round is held at in the Netherlands, is the only other Grand Prix circuit that we go to, with similar characteristics. I've always enjoyed riding Silverstone and had some good results there in previous years.
The weather was looking wet for the majority of the weekend. Friday was a fully wet day and we had one practice and our qualifying session in these conditions. We made some changes to our bike set up, to try and give me the feel I've been lacking in the wet. It was certainly an improvement, after I was 21st fastest in the wet at Brands Hatch, I was able to qualify 12th, and closer in times to the riders at the front. There was still huge amount of improvement that I need to make, but I feel we are making steps in the right direction.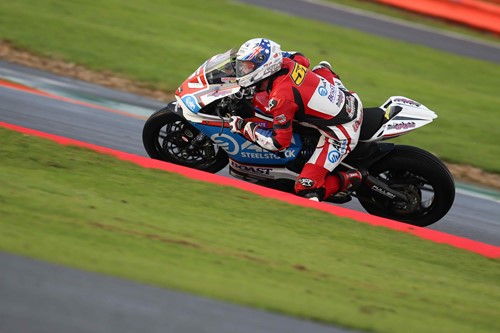 Race 1 was held at 5:55 Saturday evening. It was dry but overcast as we started our 8 lap race. I had a good start and was into 4th place by the second lap. By the end of lap 3 though, the rain had started and within a matter of corners it was coming down heavy. The race was red flagged, and we had 10 minutes to change wheels, for a restart and a 5 lap race. We were unable to make the bike fully how we had it in the wet qualifying session, but the boys did their best to make the suspension softer for me. On the restart I managed to bring it home in 12th position, in the wet. I learnt a lot that race, and even though the result cost me some decent points, I need as much wet riding as possible, as I'm picking up more feel each time.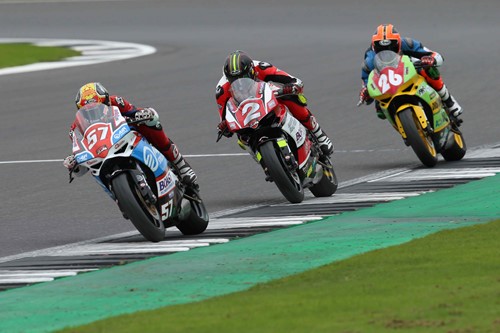 It was going to be luck of the draw for Sunday's race, on what the weather was going to do. Our race was at 2:15, and it had a few early showers and the rain was looking to settle in from about 3pm. Although we had a few light drops of rain on our warm up lap, we fortunately did have a dry race. I was starting 13th, and I got a great start to be 5th by turn two. I was 3rd by the end of lap one and pushed hard to try and get on to the back of the front two riders. I wasn't quite able to run their pace  and I was in a battle for 3rd, with my team mate Jon Railton, and Josh Wainwright. We all had sections we were quicker than one another and this resulted in some great battles for the second half of the race. I was 3rd on the final lap and felt I'd rode smart to cover my lines in a few classic overtaking places. We came up to a back marker with 3 corners to go who was right in the part of the track I was heading for. I went one way and Josh went the other, managing to get underneath us both. He managed to hold me off for the line and I crossed the finish in 4th place. I was of course disappointed to have the race decided due to some back markers but 4th from 13th on the grid I was still happy enough with! I needed some good points for the championship but I gave it everything. We have one round to go, in Assen in the Netherlands, in 3 weeks times. The weather in Assen can be very much like it was at Silverstone, wet/dry/wet/dry many times throughout the day. It will be what it will be and I'm looking forward to getting back out on the 959 Panigale and giving it everything!
A big thanks to my team and my sponsors and for the support!
Levi Day #57