Round 8 of the 2018 Ducati Tri Options Cup - Assen
Round 8 of the 2018 Ducati Tri Options Cup - Assen
The 8th and final round of the Ducati Tri Options Cup was held at Assen 'The Cathedral of Speed' in the Netherlands over the weekend. It's always great making the trip over to race at this world famous circuit, which I first raced at last year, and I really love racing there! Assen is known for it's changeable weather, but we were very fortunate that it stayed dry for the entirety of the event this year.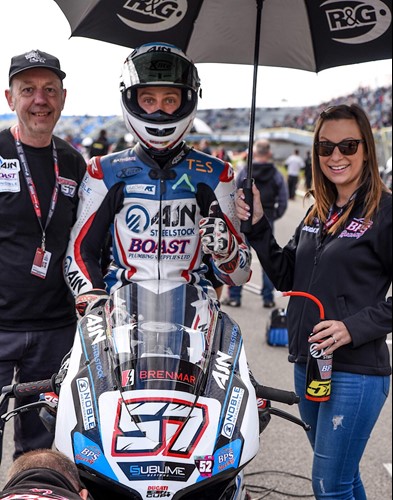 Our practice and qualifying sessions were held on the Friday. I felt good on the bike and we got to a pretty good pace quite quickly. I was second fastest in our practice session. As many of the front runners do in our class, due to our low tire allocation allowed each weekend, we only do limited laps in qualifying, to save our tires for the races. I tried to go out early and get in a decent lap time. I was happy with my time and I was again in second, behind championship winner, Rob Guiver. I felt my lap would be good enough to stay on the front row, which did work out that way. I stayed in second for Saturdays 8 lap race.
Race 1 on Saturday I got away well and got the hole shot, leading in to turn 1. I led for half a lap before Rob Guiver got passed me. He was able to pull a slight gap in a couple of corners, I wasn't quite able to stick with his pace. The battle was hotting up for 2nd, with four riders swapping places, hoping for the final two places on the podium. Sean Neary and my self had a race long battle. The final chicane at Assen is famous for action packed passes to happen. From such fast corners, into a tight chicane, it's always exciting, especially on a last lap. This race was no different! Neary came in hot in to the final turn, clipping my back wheel. I was only punted slightly, but Neary went down, which caused a follow on effect, meaning Josh Wainwright and Lewis Rollo went down in the incident also. This left Phil Atkinson who was in 6th, to pick up the final podium place. I was very lucky to escape the accident behind me, but of course I was really pleased to take 2nd in race one. The full race video can be viewed below.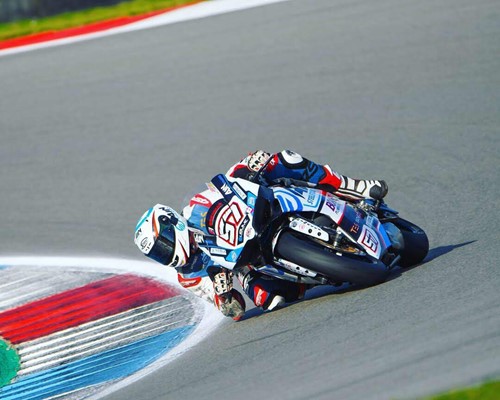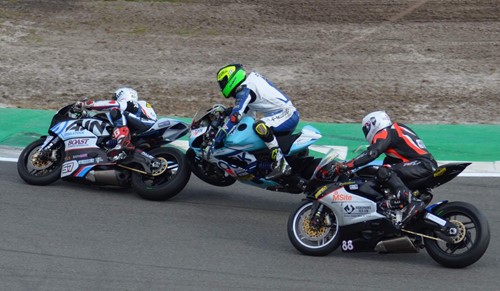 Our lap times from race one determined our grid position for race 2, which meant I would start 4th for our race on Sunday. I got a good start and was 3rd into the first turn. I then passed Lewis Rollo before the end of the first lap. We had made a couple of changes to the bike for race 2, and it was feeling really good. I was able to match Guiver in a few places I had been lacking in race 1, and I was able to get a little gap to the riders following. Then on lap 3, I hit a false neutral off the back straight and ran super wide, dropping back to 5th place. I was annoyed with my mistake as I lost about 2 seconds to 2nd place, but it sure fired me up to get my head down and do what I could to fight back! I gathered my head for the next few laps before I attempted to make my way back toward the podium places. I managed to work my way through and on the final lap I found my self in 2nd place again. I strung together a solid final lap and managed to pull half a second gap, which meant I was far enough in front to not be involved in any final chicane action again! Everyone stayed upright and I managed another 2nd place! I am really pleased I got two 2nd's over the weekend. Rob's pace was amazing all weekend, and I couldn't quite match him this weekend. But to battle back through the other super strong competition I'm really proud of how the races panned out. The full second race video can be viewed below: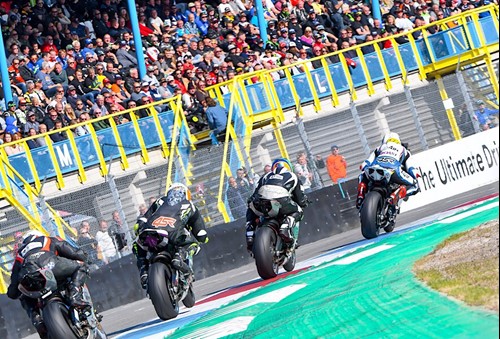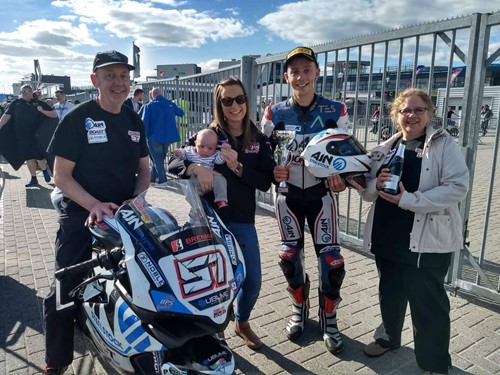 I had my Mum and Dad over from Australia for our final round, along with my Wife Katie and our 5 week old Son Max. It is the first podium I have had since racing in the British Championship, when my parents have been there watching, so that was something really special to me. I will provide a full recap of the season soon, but as most of you already know, it was very much up and down this year! But out of the 11 races I did finish, 8 of those were on the podium. But for now I will keep this report to mainly Assen.
I must thank AJN Steelstock for backing me this season, and expanding our relationship to providing hospitality to their guests this year, something which I have really enjoyed doing. With out the support of these guys, I simply wouldn't be going racing.
Also to Mike and Maddie Green of Boast Plumbing Supplies and BPS Racing. Their support and management of the team is amazing and thank you for always working hard to get our bikes up to race winning standard. Graham, Paul and Darren, the guys in my corner working with me every weekend, thank you all very much!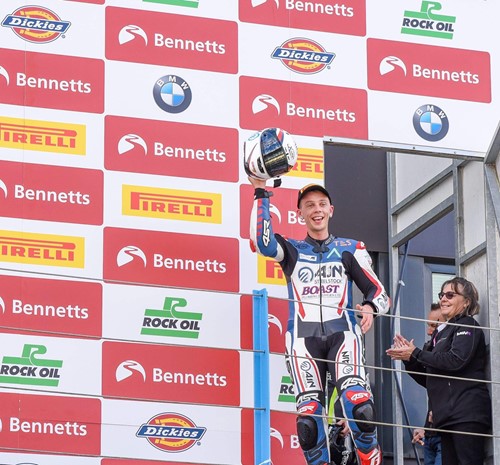 Photos thanks to Camipix Photography
And to all my personal sponsors, Thank you so much!
AJN STEELSTOCK - MAJOR SPONSOR
Boast Plumbing Supplies - Brenmar - TES 2000 – Noble Metalworks
Bakers Delight Mt Gambier - Shaun Dunford Driving Instructor – IRP Decals
Ryan Lawes Plumbing and Gasfitting - Nolan Helmets - Motogear UK - Gaerne Boots - TK Cope Moto - Health Foundation PT - Walker Sport Pics - Bendigo Bank Mount Gambier
Moto Rapido - R&G - HEL Brake Lines - Maxton Suspension - MCA Leicester - 4SR leathers